The Best Premade Bug Out Bag for Emergencies
Using a premade bug out bag may sound like a short cut- but we recommend it for most people that prefer not to spend a ton of time on their survival kits. They key is getting a quality premade bug out bag; where the gear won't fail on you when you need it most. There are plenty of imported bags that are filled with junk out there, so be careful not to just grab the cheapest option you find. If you go cheap, it may make sense to get less gear in the bag rather than cheaper gear. This will let you add quality items that you need while keeping the core of the bag together (and not replacing items).
We've tested a variety of premade bug out bags to find the best for an emergency. There are hundreds of premade kits out there, but we were able to whittle down the field quickly with a little research and just by recognizing quality gear. Functionality, versatility, and quality were all huge factors that separated out the best premade bug out bags from the rest of the competition. We're excited to share our findings and get all the 'shortcut preppers' the right gear that won't fail on them. If you want a versatile, quality bug out bag for any situation, one of our premade recommendations will accomplish that mission.
---
Contents (Jump to a Section)
---
The Best Premade Bug Out Bag
Versatile, Junk-Free, with Brand Name Gear
This 72 hour kit is the best way to kickstart your preparedness with top rated gear that will keep up with any emergency.
*Price at time of publishing; check for price changes or sales.
The Sustain Supply Co Essential2 is clearly the best premade bug out bag option. Sustain Supply Co have a wide range of bags that are set up well, but the Essential2 distinguishes itself from these and the competition by being the best value on the market. SSC's offers their 'Comfort2' bag for twice as much, but much of the gear in that premade bag could be upgraded out of. The contents of the Essential2 includes:
Bug Out Backpack (Large Capacity, Gray)
4x Cyalume Glow Sticks
LED Lantern
First Aid Kit
Paracord
Hygiene Wipes
2x Mylar Blankets
Morakniv Basic
2x Emergency Whistles
2x Ration Bars (2400 Calorie)
12x Datrex Water Pouches
Sawyer Mini Water Filter
The Essential2 includes only essential gear that won't need to be upgraded, even if you decide to improve your preparedness level later on. It holds off on the cheap stuff- so it cuts the weight and the price. Specifically, the Morakniv, Sawyer Mini, and the portable food/water are top picks in their categories.
Many of the premade bug out bags we tested pack non-essential items so they can market a larger number: "300 piece bug out bag kit"- but those kits have 299 useless items in them. Sustain Supply Co does an excellent job at just covering the essentials and skipping the junk to give us a premade bug out bag that is a great value.
---
Budget Premade Bug Out Bag
Cheap, Essential Gear
Those on a budget will appreciate how this kit covers the essential bases but allows you to add tools yourself without compromising.
*Price at time of publishing; check for price changes or sales.
If you are looking for a cheap pre-made bug out bag, you won't find a better deal than the Ready America 2-Person 3-Day Backpack. Similar to our top pick, they have stripped out all the non-essential items to provide a true bare-bones bug out bag with a great price. The bag includes:
Bug Out Backpack (Mid Capacity, High-Vis Red)
2x Mayday Ration Bars (2400 Calorie)
12x Mayday Water Pouches
First Aid Kit
2x Mylar Blankets
Whistle
2x Cyalume Glow Sticks
2x Emergency Ponchos
2x Dust Masks
2x Nitrile Gloves
Although a lot of items could be added or upgraded to higher quality gear, this Ready America kit is a solid starting point with cheap essentials.
---
Upgrade Premade Bug Out Bag
Organized, Packed full of Quality, with Best in Class Tools
If you are looking for all of the best gear from one place: Uncharted makes it easy with their Seventy2 premade bug out bag.
*Price at time of publishing; check for price changes or sales.
If you want the best, without the hassle of having to piece everything together… the Seventy2 by Uncharted is the clear way to go. Every detail of this kit has clearly been thought out and engineered to near perfection. For starters, most pre-made bug out bags skip quality on the bag itself- not the case here. The bag is ultra-high quality, waterproof, durable 600D tarpaulin, a 26 liter capacity, and an organizational insert. Inside the bag, you'll find top-notch gear including:
Sawyer Mini Water Filter
Nalgene Bottle (48 oz)
Datrex Ration Bar
UCO Stormproof Matches
Mylar Survival Tent
Sanitation Wipes
Paracord
Guardsman Multi-tool
Waterproof Compact Flashlight
Camp Shovel/Pickaxe
First Aid Kit w/ Gauze and Splint
2x Cyalume Glow Sticks
Mylar Blanket
Sunscreen (SPF 50)
Radio/Flashlight/Charger Combo
Filtration Mask (99.9% Carbon Filter)
Duct Tape
2x Heat Factory Hand Warmers
Goggles
Magnesium Fire Starter w/ Tanto Knife
Beanie
Cut-proof Insulated Gloves
The bag is a marriage between preparedness and minimalism, which is why they filter out all of the junk. To cap it all off, they value military members and offer 10% off to members and veterans when you buy through their site. Christian does a great job explaining the thought process behind the design of the bug out bag and it's contents here:
---
Everything We Recommend
This 72 hour kit is the best way to kickstart your preparedness with top rated gear that will keep up with any emergency.
Where to Buy
*at time of reviewing
Those on a budget will appreciate how this kit covers the essential bases but allows you to add tools yourself without compromising.
Where to Buy
*at time of reviewing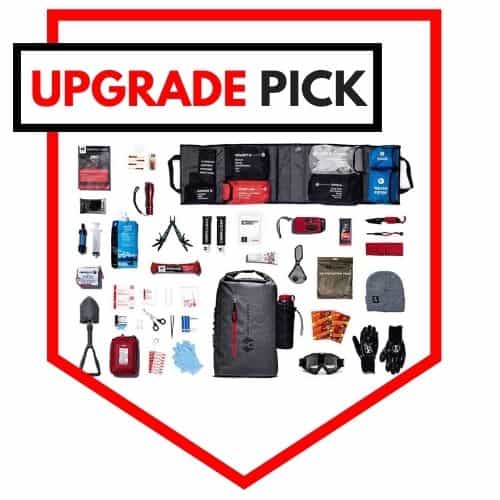 If you are looking for all of the best gear from one place: Uncharted makes it easy with their Seventy2 premade bug out bag.
Where to Buy
*at time of reviewing
---
The Premade Kits We Compared
Our research narrowed the field down to several contenders that we tested: Ready America, Everlit, Guardian Survival Gear, Sustain Supply Co, Uncharted, and more. This helped us eliminate cheaply made poor quality kits or kits that just weren't a good value. The premade kits come with a lot of gear to test, so we've been at this for a while now.
---
What to Look For
The best premade bug out bags have several important features to look for:
Value
Essential Gear
Versatility
Upgrade Ability
Below, we break down what each of these mean for a great premade bug out bag. When you get the right blend of these, you can find a great bug out bag without the leg work of putting one together on your own.
Premade Value
The whole point of a premade bug out bag is to save time and to save money.
You can save time researching gear, testing gear, and buying and stowing gear for a wide range of emergencies. A lot of people underestimate the time they spend researching gear.
You can save money because these companies use bulk buying power to get great prices on their gear, and then split them into these emergency kits. Mylar blankets are much cheaper if you buy thousands at a time rather than just one. A premade kit can also keep you from ordering crap gear, unnecessary gear, or redundant gear.
Essential Gear
How much gear should be in a bug out bag? That's an age-old argument for both pre-made bug out bags and homemade kits.
We've delved deep into this topic in our comprehensive bug out bag guide, where we define and list out essential gear. Essential gear is needed as the backbone of any bug out bag, and any gear added on top of that makes the kit more versatile for different emergency situations.
Versatile Gear
Any gear that is non-essential may still be needed for your specific situation. In our comprehensive list, we list this gear as "suggested gear" and "considered gear"- two additional tiers that can help establish the importance of including specific types of gear in a kit. All of this gear is designed to increase your kit's versatility for a wider range of emergencies.
Upgrade Ability
You can upgrade whatever you want in any of your kits. When we review specific types of gear, we often list out our 'upgrade pick', which is the top-tier top quality gear in the segment. The only problem with upgrading is that you may already have some gear that does the same thing, just of lower quality.
This isn't the end of the world- having more than one of any tool or gear is preferred (we call it redundancy). A lot of times, redundancy is seen as a negative word, but in the world of prepping it's a good thing. "Two is one and one is none" is usually the phrase we go to.
At the same time, you don't want to start building up a ton of gear that you never use. There is a fine line between preparedness and hoarding. If you don't touch a piece of gear in a year- you might be doing it wrong and need to self-evaluate. Too much gear is definitely a thing, and you need to be able to stay organized to stay prepared. If you do find yourself with tons of crap you aren't using- donate it, throw it out, or make some quick cash on eBay.
When we look at upgrade ability for premade bug out bags, we look at whether the gear they include should be replaced.
---
Why Bug Out Bags are Important for Survival
Bug out bags are a part of an overall emergency plan, and are important for events that may cause you to evacuate your home. There are a wide range of emergencies, disasters, and events where it would be advantageous to 'bug out' – or leave your home. Some of these include:
House Fire
Hurricane
Flooding
Wild Fire
Nuclear Accident
Wartime Attack
The list goes on, and these are just the tip of the iceberg. To see all common threats and their matching risk score, you can check out our TrueRisk Analysis. As you can see, the probability and impact of these events are very different, but your survivability for each of them can depend on how prepared you are to bug out.
With so many threats that require you to be mobile, bug out bags are a well known preparedness priority. The Red Cross, FEMA, CERT – all of these agencies agree that self-sufficient preparedness is important and that every family should have an Emergency Plan that covers evacuation.
---
Who Needs a Premade BOB?
Premade bug out bags can save a ton of time and money, if the right one is selected. This makes it easier for people to get started with prepping, or to expand their preparedness for additional family members.
The main kit that a premade kit covers, is of course:
Whether the premade bug out bag is just a starting point, or a 'fire and forget' purchase- it can pay off to check out the comprehensive checklist and guide in the Bug Out Bag link above. We are constantly updating the bug out bag guide for new gear and recommendations based on the world's ever changing threat profile.
How We Review Products: We research thoroughly before selecting the best products to review. We consult experts in the field for a better understanding of what makes the gear great. Hours on end are spent field testing gear in stressful conditions. We assign performance criteria and impartially rate each tested item. You can support us through our independently chosen links, which can earn us a commission at no extra cost to you. After our review process, some of the items reviewed end up in our giveaways.
Sources and References
An objective look at the best premade bug out bag is useless without sources and references. We leaned on these for the book knowledge that we paired with our practical military experience and prepping acumen.
Ostrovskiy, G. & Shemesh, A. (2018). Contents of a Bug-Out Bag. Prehospital and Disaster Medicine; Cambridge Vol. 33, Iss. 6, pgs 647-649. (Source).
Public Safety Canada. (2016). Emergency Kits. (Source).
Stewart, C. (2012). Build the Perfect Bug Out Bag. Penguin. (Paperback, Source).
---
The Final Word
Preparedness and prepping can look very different for people. Some people have plenty of time to read up and create their own bug out bag, but the fact is that most people don't have this luxury.
Beyond bug out bag contents, we also have plenty of tips and suggestions in our guides, starting with our comprehensive full-guide, and including our articles on the cheapest bug out bag, kids' bug out bags, and even pet bug out bags:
We presented quite a lot of information, but as always: if you have any questions let us know and we would be happy to help. Our research and testing settled on Sustain Supply Co Essential2 as the best option given the value, type of gear included, versatility, and upgrade potential. Be sure to practice with your premade bug out bag- don't just let it sit in the closet forever. Besides familiarizing yourself with the gear, you can also check expiration dates.
Keep exploring, stay prepared, and be safe.
---
You've Been Missing Out
Join 32,170 preppers getting no-spin prepping advice by subscribing to
True
Prepper.
Practical guides and tips
Useful survival giveaways
Free, forever
< 0.4% of people unsubscribe
Thanks for
subscribing
, reading, and welcome to the club.
---
---