The Best Headlamp for Prepping and Survival
Adding a light source to your head is nothing new. Miners and explorers have been doing it for decades. Lucky for us, technology has improved since then- so were not hanging oil wick lamps from our head. Headlamps use LEDs and state of the art battery technology to keep them lightweight and comfortable.
A headlamp is the most versatile light source you can have for emergencies and survival. Being able to have light while keeping both hands free is useful in any situation, really. Headlamps are used by first responders, militaries, and law enforcement in extreme weather, so survival headlamps are proven tools useful for a variety of kits. There are several types and brands to pick from, so you have a few options when you decide to add them to your survival kit. This is where we come in. We've researched all of the survival headlamps, tested them in the elements, and have selected the overall best, budget pick, and a high quality upgrade option. If you need a solid headlamp, one of our suggestions will be the perfect fit.
---
Contents (Jump to a Section)
---
The Best Survival Headlamp
Versatile, Long Battery Life, and Rugged
This waterproof and impact resistant LED headlamp is durable enough to conquer any emergency in stride.
*Price at time of publishing; check for price changes or sales.
The Vont Spark headlamp is the perfect balance of performance and value, through thoughtful design and the latest LED technology. The 200 Lumen LED has seven adjustments for any situation, and a pivot casing so you can easily adjust the angle on the fly. It is IPX5 waterproof and shock resistant, so it will hold up in your bag or on your head. The headband is plenty adjustable, and the casing is very lightweight so it doesn't move around- even if you're running or jumping around.
You can find cheaper or more expensive headlamps, but the Spark is positioned at that optimal point where you are getting the best functionality without overspending. If you plan to use the headlamp on a regular basis and not just during emergencies, it's nice to know that Vont backs the Spark with a lifetime warranty (and they are very responsive).
---
Budget Bug Out Bag Headlamp
Insanely Cheap, Lightweight, and Effective
Surprisingly reliable for the cost, this tiny LED headlamp puts out enough lumens to keep you out of the dark.
*Price at time of publishing; check for price changes or sales.
We've found the cheapest of the cheap here. Typically, you steer clear of these types of 'deals' because the quality just doesn't hold up. The Ozark Trail Headlamp seems to be the exception, however, because a few of them held up well during our tests. The LED is bright enough (nothing spectacular), the strap works and adjusts easily, but the price is simply unbeatable.
These things are perfect for stashing in a bag due to their size, weight, and cost. They are durable and easy to operate- my kids love using them today and I don't have to worry about when they 'test stuff like daddy' and hit the things with a hammer, because these headlamps are only a buck. Pick up a few the next time you are out and about- they're actually not a bad deal.
---
Upgrade Headlamp
Ultralight, Lithium Powered, and High Output
The clear leader when it comes to headlamps, the Array is the most powerful lightweight option we could find.
*Price at time of publishing; check for price changes or sales.
Olight at it again, this time with the Array headlamp. 400 Lumens. Their signature magnetic charging. Over 12 hour runtime. All of this in less than 9 ounces. As an engineer, I really appreciate the design. Shifting the battery weight (even though it is lightweight) to the back of the head is smart ergonomics and (when combined with cutting edge LED technology and massive Lithium Ion runtime) makes this the best headlamp on the market.
The Olight Array headlamp is our upgrade pick after testing as it easily outclasses all of our other tested headlamps. Olight has a great history of innovation in lighting, and the Array is another demonstration of this.
---
Everything We Recommend
This waterproof and impact resistant LED headlamp is durable enough to conquer any emergency in stride.
Where to Buy
*at time of reviewing
Surprisingly reliable for the cost, this tiny LED headlamp puts out enough lumens to keep you out of the dark.
Where to Buy
*at time of reviewing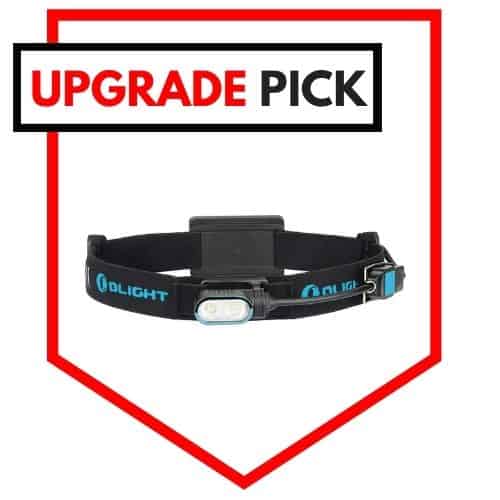 The clear leader when it comes to headlamps, the Array is the most powerful lightweight option we could find.
Where to Buy
*at time of reviewing
---
The Headlamps We Compared
Our research narrowed the field down to the several headlamp contenders that we tested: Energizer, Olight, Everbright, Black Diamond, Vont, Ozark Trail, and more. This helped us eliminate some of the lights that just weren't a good value.
There is a huge number of brands represented in the $10 to $30 range. Once you get past that range, you start seeing improvements on the LED type and battery technology. This separates out the higher end models, because they are able to have longer runtimes and higher maximum lumen output in a small lightweight casing.
---
What to Look For
The best headlamps have several important features to look for:
Value
Lumens & Throw
Runtime
Battery Type
Comfort
When you get the right blend of these, you can find a solid headlamp without breaking the bank. Below, we break down what each of these mean for a great headlamp.
Value: Cost vs. Benefit
In a world full of cheap headlamps, you usually get what you pay for. In the US, imports on cheap tools and flashlights have gone way up recently. This means that there is a lot of crappy gear out there, but there is also steep competition. In order to stand out, manufacturers are having to be both price sensitive and aware of their quality and service.
You also don't want to spend too much money on one resource, like a headlamp. Using your money to get the most functionality and versatility out of your survival kit is the smart way to go. There is a sweet spot where you get high value out of the best functionality with not-to-high of a price, which is where our top pick sits.
Lumens & Throw
Two important features for a headlamp are the lumen output and the throw distance. You want our headlamp to be powerful enough to light an area and have enough reach to see at a respectable distance. This is where the lumens and throw come in.
A lumen is a measurement unit of visible light. The higher the lumen number, the brighter the light. Flashlights range from 20 lumens all the way up to a blinding 3500 (HID car headlights are 3000L). Low lumen lights aren't completely useless: candles provide low lumens but are enough to light small areas and provide near-proximity task lighting. A headlamp on a low lumen setting can provide the same. Higher lumens are a better setting for your headlamp if you are out and about, since higher lumens typically come with a longer throw.
The throw of a light is affected by the lumen output, but also relies on the reflector cone and lens. Adjustable lens flashlights demonstrate this, as you can twist the lens focal point to get a longer throw out of the light. Headlamps typically don't have this feature (probably due to weight), and instead have multiple lumen output settings which adjust the throw as well.
Runtime
You do want your survival headlamp to have a long runtime- you may need it all night if you find yourself in a bind. With the exception of our budget pick (4 hours), all of our picks easily last overnight with their runtime. The budget pick is the lightest and cheapest of the group, so you could always have multiple headlamps or extra batteries to cover an entire night and still come in way under budget.
Battery Type
Small batteries that pack some power are the secret to a good headlamp, but they also need to be easily found (stocked) or rechargeable for survival situations. AAAs, common button batteries, and lithium ion rechargeable batteries are your best bet here.
Some manufacturers get creative with the battery placement: our upgrade pick has a magnet rechargeable lithium ion battery on the back of the headband so they can have increased runtime with higher output, but remain comfortable with the balanced weight.
Comfort
The size and weight contribute to the comfort of a headlamp, but there are other factors as well. Padding and adjustability will let you wear a headlamp longer. Headlamps that are lighter weight can be held in place with just one strap around the head, but heavier ones will need an additional strap across the top. Headlamps with top straps are becoming less common, just because you can get great power out of a small light casing with better LED and battery technology.
Weight and a quality strap are the largest contributors to comfort in our tests. Any of our picks, with proper adjusting of the strap, will be very comfortable on your head- even without top straps.
---
How to Use a Headlamp
Headlamps are pretty simple to use, but they are also surprisingly versatile. To use a headlamp to generate light right in front of you while keeping your hands free (the main use, of course)- you just adjust the strap to fit your head, put the headlamp on, and turn it on. This makes headlamps pretty great in and of themselves, but their alternate uses are really what pushes them to the top of prepper lists. Here is a quick list of just a few of the many uses:
Flashlight: Hold your headlamp in your hand to easily direct he light. Pretty simple, but still versatile.
Lantern: you can wrap a headlamp around a clear water bottle or gallon of water, turn the headlamp inward and turn it on to make a lantern.
Signal Device: Click the headlamp on and off to send light signals. Knowing Morse code or common light signals can help.
Map Reading: Use a headlamp to keep your hands free for map charting and reading with compasses and other tools. Throw a tarp or large parka over yourself to do this without light pollution.
You can also use headlamps for plenty of everyday activities, like running, camping, biking, reading, home repairs, and truck maintenance.
---
Who Needs a Survival Headlamp?
Headlamps are such a versatile lighting tool that they are found in almost every type of survival kit. Keeping your hands free and your surroundings well lit is a huge advantage during emergencies. Headlamps are also useful every day- from doing chores and maintenance in your crawlspace or attic, keeping your hand's free on a camping trip, or just a quick jog at dusk or dawn.
Headlamps are an integral and essential part of these kits:
Headlamps are a suggested addition for these kits:
No matter what threats could come your way, a headlamp is one of the best light solutions you can have for a survival situation.
How We Review Products: We research thoroughly before selecting the best products to review. We consult experts in the field for a better understanding of what makes the gear great. Hours on end are spent field testing gear in stressful conditions. We assign performance criteria and impartially rate each tested item. You can support us through our independently chosen links, which can earn us a commission at no extra cost to you. After our review process, some of the items reviewed end up in our giveaways.
Sources and References
An objective look at the best headlamp is useless without sources and references. We leaned on these for the book knowledge that we paired with our practical military experience and prepping acumen.
DelCore, A. (2015). Sustainable solar headlamp: An open source consumer medical device. IEEE. (Source).
Rakes, P. (1999). Technology in Transition: The Dilemmas of Early Twentieth-Century Coal Mining. Journal of Appalachian Studies. 5(1), 27-60. (Source).
NMAH. (2021). Mining Lights and Hats. Smithsonian. (Source).
---
The Final Word
A headlamp may seem like a small and insignificant light source, but they are the ultimate light when you need it. Being able to see in the dark and at night is very important for survival and emergencies.
Besides headlamps, there are a few other light sources you can consider for survival:
Plus, you could always make a fire to generate light:
We presented quite a lot of information, but as always: if you have any questions let us know and we would be happy to help. Our research and testing found that the Vont Spark Headlamp is the best option given the value, power, runtime, and comfort. Be sure to know how to use your headlamp. Don't let it sit in your bag or kit indefinitely- get it out and get familiar with it by using it.
Keep exploring, stay prepared, and be safe.
---
You've Been Missing Out
Join 27,977 preppers getting no-spin prepping advice by subscribing to
True
Prepper.
Practical guides and tips
Useful survival giveaways
Free, forever
< 0.4% of people unsubscribe
Thanks for
subscribing
, reading, and welcome to the club.
---
---