The Best EDC Flashlight for your Keychain or Pocket [2023]
Some of the best EDC flashlights are getting updates for 2021, so it might finally be time to update your loadout. Month-long runtimes, long throws, and massive lumen output are all on the menu this year. We also found a premium edition of a long favorite in the EDC community, which is an upgrade of an upgrade- so you'll want to check out our upgrade pick since they were produced in a limited run.
We tested a large number of flashlights from a variety of brands to find the best for everyday carry (EDC). There are a seemingly endless number of models of flashlights out there, but we were able to trim the field quickly with some research and some experience with EDC loadouts. Profile (size and weight), output, runtime, and battery type were all huge factors that separated out the best EDC flashlights from the huge field of competition. If you want a small quality flashlight for any situation, one of our EDC flashlight recommendations will fit the bill.
---
Contents (Jump to a Section)
---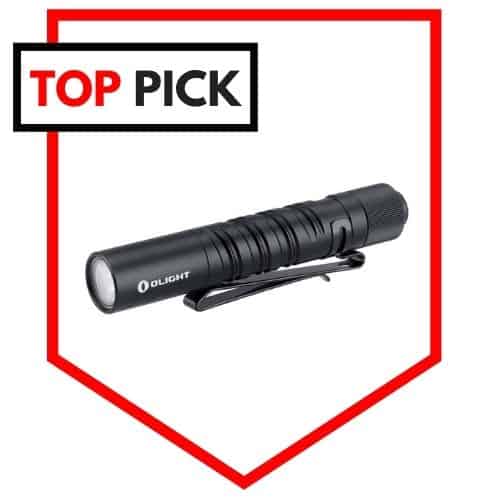 The Best EDC Flashlight
Small, Powerful, and Proven
The i3T EOS from Olight has been at the top of it's class for years, and easily maintains it's spot with proven power and durability in a small profile.
*Price at time of publishing; check for price changes or sales.
The Olight i3T EOS has been the best EDC flashlight for the better part of a decade. Not only did we put it through the paces for testing, but we own and use several in our own EDC loadouts. It packs a hell of a punch for it's size with 180 lumens off a single AAA battery. It lasts at least 16 hours when you load up a fresh battery, and AAA batteries are easy enough to come by or stock ahead of time. This tiny light throws 60 meters and is drop proof and waterproof. The unique spiral knurled grip, button back, and two-way clip are the finishing touches that keep this light at the top.
Olight produces the i3T EOS is a variety of colors and runs flash sales frequently on their website for limited color runs. Our favorite is the tried-and-true matte black, but you can get whatever suits your fancy. If you're looking for a small reliable light for every day use- the i3T EOS will be your best option.
---
Budget EDC Flashlight
Cheap, Tiny, and Durable
A small, sealed aluminum case key ring flashlight that gets the job done at a great value.
*Price at time of publishing; check for price changes or sales.
If you're looking for something cheap and at an even smaller profile, we recommend the Nitefox E1 for your keychain. The cheaper flat button-type keychain flashlights are plastic and nowhere near as durable, so the E1 easily outclasses them with it's aluminum casing at a similar price. The light itself is less than 1.5 inches, and will give you 15 lumens for 12 hours. Extra LR41 button batteries are included, and they are easy enough to find at stores when you eventually do run out.
You can get more power, runtime, and durability in an EDC flashlight- but not at this size and certainly not at this price. If you are on a budget or simply want a no-frills, durable solution for your keychain: Nitefox E1 is your pick.
---
Upgrade EDC Flashlight
Compact, Powerful, and Extremely Durable
An upgrade to the wildly popular Baton 2, the Baton 3 doubles the runtime with new battery tech- and the premium edition pushes it to the limits.
*Price at time of publishing; check for price changes or sales.
The Baton 3 is brand new to the EDC flashlight game this year, and it is clearly the best on the market out of the gate. The flashlight itself is the latest evolution of the Baton casing: more than doubling the runtime and improving the Baton grip knurling. The Baton 3 is still less than 2.5 inches, but now throws 1,200 lumens 160+ meters. The classic magnet back, wireless charging, and dual clip are still here, making it one of the most versatile lights you can have for your loadout.
The Baton 3 itself is a little cheaper than the premium edition we list above ($49 at time of publishing), and the difference is the premium portable USB charger that the Baton 3 fits in like a glove. The magnetic pocket charger gives the Baton 3 four times the charge, allowing you to use the flashlight continuously for over three months. The limited edition charging case is extremely well made and durable to match the Baton, and is a great deal for the $16 price difference.
---
Everything We Recommend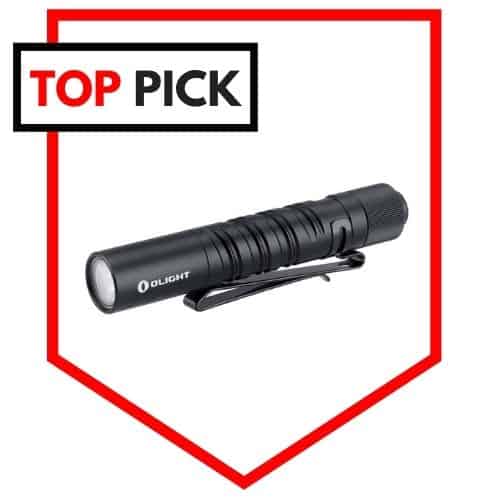 The i3T EOS from Olight has been at the top of it's class for years, and easily maintains it's spot with proven power and durability in a small profile.
Where to Buy
*at time of reviewing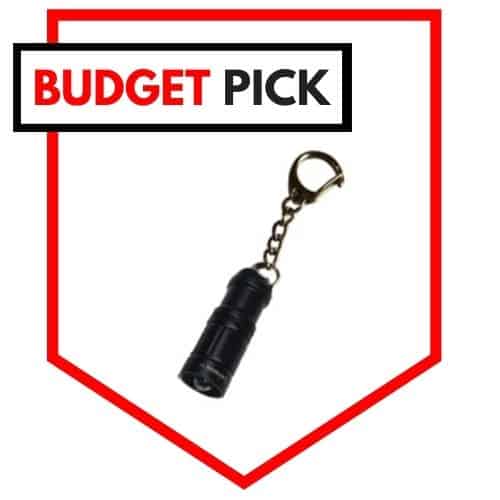 Nitefox E1 Keychain Flashlight
A small, sealed aluminum case key ring flashlight that gets the job done at a great value.
Where to Buy
*at time of reviewing
Olight Baton 3 Premium Edition
An upgrade to the wildly popular Baton 2, the Baton 3 doubles the runtime with new battery tech- and the premium edition pushes it to the limits.
Where to Buy
*at time of reviewing
---
The EDC Flashlights We Compared
Our research narrowed the field down to several contenders that we tested: Nitecore, Olight, GearLight, Maglite, Streamlight, Nite Ize, Slughaus, Nitefox, Gator Eyes, Surefire, 5.11, Fenix, and more. This helped us eliminate flashlights that just weren't a good value.
Flashlights small enough for everyday carry have slowly and steadily improved over the years. We've come a long way from the original key light, and have a lot more power, versatility, and runtime in our pockets now. Along with each innovation comes a crowded field of competition. With so many brands and models in the marketplace, you need to know how to cut through the marketing talk to get to the real value.
---
What to Look For
The best EDC flashlights have several important features to look for:
Value
Lumens & Throw
Runtime
Battery Type
Profile
Below, we break down what each of these mean for a great portable flashlight. When you get the right blend of these, you can find the perfect addition to your loadout without breaking the bank.
Everyday Value
You could drop hundreds of dollars on a tiny flashlight if you didn't have a budget, but you would be getting a good value. The best value lies in the place where a good price and good quality intersect. You can find cheap EDC flashlights on endcaps in any store, but they aren't going to last with their lower quality.
When you are carrying something everyday, it often makes sense to spend a little more than you would if you use it occasionally. Besides the better functionality, the better quality will be put to the test with the higher use rate. That is why EDC items are often considered for upgrading- the more you use something the better investment an upgrade would be.
Lumens & Throw
Flashlight performance is the main thing that separates out the garbage from the useful gear.
Lumens are a measurement of the light output. Flashlights range from 20 lumens all the way up to a blinding 3500 (HID car headlights are 3000L). Flashlights have really gotten brighter over the last several years, but most times this kind of output can drain a battery quickly.
The throw of a flashlight is a factor of the Lumens produced, reflector cone shape, and lens type that affects how far the flashlight beam travels. Some flashlights have a throw of up to 500 yards. Versatile flashlights have a 'zoom' bevel which allows you to change the beam width and throw distance.
Daily Runtime
Runtime is a fancy flashlight word for how long it lasts when it is turned on. This is usually directly related to it's battery capacity and the lumen output. A good runtime is a few days, and some flashlights can even be on for weeks. Our upgrade pick has enough charge to run for months.
Battery Type
There are plenty of battery options for your typical flashlights, but EDC flashlights usually offer a more limited selection due to their size. AA, AAAs, and button batteries are the main replaceable batteries, but higher quality models can have lithium ion batteries still- even in the smaller casing.
Profile
The size and weight of a flashlight is an even more important consideration for EDC. The ounces and the inches add up when you choose to lug it around everywhere you go. Holders, sheaths, pouches, and bags can all let you add larger EDC flashlights to your loadout- but even then you still have to consider whether the functionality is worth the additional profile.
---
Why EDC Flashlights are Important
Have you ever been without a light when you needed one? That's the entire point of an EDC flashlight. It is mostly for what it's named for: every day use.
The real importance lies in the ability it provides for your preparedness. Preppers develop emergency kits, but we aren't always at home. The only thing that constantly stays with you is your EDC loadout- what you choose to bring with you. If you work, run errands, or just live your life not bunkered down in your home- you could face an emergency without your preparedness gear. This is the basis of why every day carry is important for survival.
A flashlight provides a unique function for an EDC loadout, making it an essential part of most people's loadouts.
---
Who Needs an EDC Flashlight?
Literally anyone can benefit from an EDC flashlight. They may not call it an 'EDC flashlight', but most people have some method to generate light- especially if they own a cell phone. Cell phone flashlights are great, but the principle 'two is one and one is none' applies not just to preparedness, but to EDC as well.
An EDC flashlight is part of a person's EDC loadout:
Although it is not specifically part of a survival kit, a small portable flashlight on your person does help your general preparedness. It can also be a redundancy for flashlights in your kits.
Our ancestors struggled with candles and torches- or just hoped that the moon was bright at night. We're lucky to have light so easily available to us, and there's not really any reason to not have it readily available.
How We Review Products: We research thoroughly before selecting the best products to review. We consult experts in the field for a better understanding of what makes the gear great. Hours on end are spent field testing gear in stressful conditions. We assign performance criteria and impartially rate each tested item. You can support us through our independently chosen links, which can earn us a commission at no extra cost to you. After our review process, some of the items reviewed end up in our giveaways.
Sources and References
An objective look at the best EDC flashlight is useless without sources and references. We leaned on these for the book knowledge that we paired with our practical military experience and prepping acumen.
Hunter, K. & Conrad, J. & Willis, A. Visible light communication using a digital camera and an LED flashlight. IEEE SOUTHEASTCON 2014, Lexington, KY, 2014, pp. 1-5. (Source).
Lenk, R. & Lenk, C. Practical Design of An LED Flashlight. in Practical Lighting Design with LEDs , IEEE, 2016, pp.135-160 (Source).
Brooks, M. (2003). The Zombie Survival Guide: Complete Protection from the Living Dead. Three Rivers Press. (Paperback, Source).
---
The Final Word
An EDC flashlight may seem like a simple tool, but having a reliable and effective light for any situation is a luxury everyone can afford. Keeping a flashlight close by will let you
Besides flashlights, there are many other tools that you should consider for EDC, including:
We presented quite a lot of information, but as always: if you have any questions let us know and we would be happy to help. Our research and testing found that the Olight i3T EOS was the best option given the value, power, runtime, and profile.
Keep exploring, stay prepared, and be safe.
---
You've Been Missing Out
Join the 2+ million preppers that rely on our prepping advice by subscribing to
True
Prepper.
Practical guides and tips
Useful survival giveaways
Free, forever
< 0.4% of people unsubscribe
Thanks for
subscribing
, reading, and welcome to the club.
---
---