The Best Door Reinforcement Kit for Home Security
A good door reinforcement kit is a huge upgrade for your home's security.
The most common break-in entry point is the front door- according to the Bureau of Justice.
The best door reinforcement kit turns your door into an impenetrable barrier and improves your home security by leaps and bounds.
We have exhaustively researched and tested door reinforcement kits. We set to seek out kits known for their strength, but also found door reinforcements that were easy to install. After installing and testing the best that we found in our research, we're ready to share the results.
---
The Research and Results
---
The Best Door Reinforcement Kit
Transform any door into a impenetrable barrier.
Keep intruders out. No matter what.
$89 from Door Armor or Amazon*
*Price at time of publishing; check for price changes or sales.
The Door Armor MAX kit takes the top spot as the best door reinforcement kit. It reinforces every weak spot of a traditional door and frame to make it a nightmare for an intruder.
The door reinforcement kit is constructed from powder coated galvanized steel. The punch-out plates allow you to adapt it to virtually any external door, even if there are extra deadbolts. Other kits may deter or stall break-ins, but this kit prevents them completely. Door Armor even puts their money on the line with the guarantee: if you experience a break-in from product failure they will pay your home insurance deductible and give you a new Door Armor kit for free.
---
Portable Door Reinforcement
Brace for impact.
This portable door bar keeps doors closed- even if you are on the road.
*Price at time of publishing; check for price changes or sales.
The Brinks Door Security Bar is a great non-permanent option for those that are unable to install a door kit. Renters and travelers stand to benefit from this sturdy door bar being able to handily prevent break-ins.
The bar itself is made of 20 gauge commercial-grade steel with padding on both ends to prevent damage to doors and floors. It adjusts from 25″ all the way out to 43″. It can be used to brace traditional doors (both interior and exterior) and sliding doors. This sturdy hunk of steel is versatile in a variety of home security situations.
---
Budget Door Reinforcement Kit
Door security as cheap as they come
Don't let a tight budget get in the way of safety and security.
*Price at time of publishing; check for price changes or sales.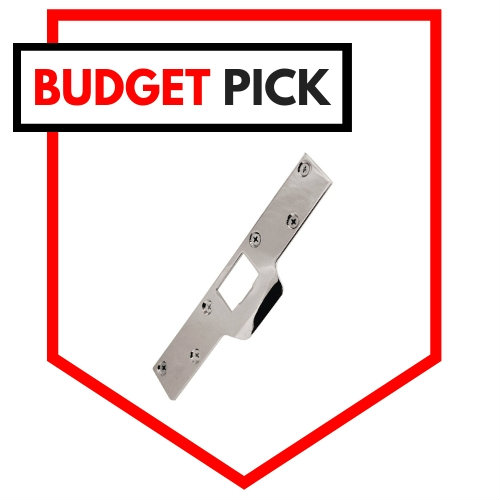 The Prime-Line Security Latch Kit is one of the cheapest strike plates you can get, making security affordable for anyone.
The kit is a great improvement over a standard builder set-up, and is constructed out of chrome-plated and stamped steel. The kit includes the 3″ screws to hold the latch plate solid. The plate won't stop the most persistent intruders, but it is much better than a door setup without a security latch at all.
---
What is a Door Reinforcement Kit?
A door reinforcement kit is a smart way to reinforce a door. Standard exterior and interior doors are designed to simply be entry points and do not provide as much security as you may think. The purpose of any door reinforcement is to improve that security, by either bracing the door or replacing components around the door.
The latch plate is one of the easiest ways to reinforce a door. Replacing this standard component is cheap and fast. There are many things to consider when upgrading a latch plate, such as:
Latch plate size – the size of the latch plate determines how any force on the latch is distributed. The larger the plate, the better. Once it gets a certain length, the distributed force trails off and length matters less. If a plate spans multiple latches (such as the doorknob latch and the deadbolt) it will be even stronger.
Length of screws used – Longer screws hold the latch plate on better than short screws.
Number of attachment points – The more points a latch plate is attached with, the stronger it will be. A standard door latch strike is only attached with two screws.
A door reinforcement kit is superior to a door brace in that the door being reinforced is still operational. When you use a brace system to reinforce a door, you must do so from the inside.
Some reinforcement kits include bracing for other components of the door, and not just the latch plates. While the latch plate is typically the weak spot and the target for a break in, when it is reinforced other points of the door become the new weak spot.
If an intruder cannot kick in a door due to a reinforced latch, they kick a few more times with enough force and they can kick the deadbolt out of the door. This is why some kits also reinforce the door side of the latches.
If an intruder cannot kick in a door on the handle side, they can kick the hinges off the door if they are large and strong enough. This is why some kits reinforce the hinges as well.
The best-tested kit we installed uses all of these reinforcement points to make a door impossible to get though… unless, of course, you have the key.
---
How to Install a Door Reinforcement Kit
Depending on the kit, installing your door reinforcement can be time consuming, tough, or even require specialty tools. This affected consideration for our picks, since installing a door reinforcement kit shouldn't be as hard as getting through a reinforced door.
Most door reinforcement kits include a latch plate (at least) and lengthier screws to attach the latch plate. These kits will require some run of the mill tools including:
Screwdriver– Most kits include Phillips head screws, although some kits may use security screws.
Drill– A drill can cut down on the install time and prevent issues with the frame.
Drill Bits – A pilot hole where additional screws are being placed can prevent a headache.
If you are having trouble getting a reinforcement kit to fit, you may also need to consider using a:
Sanding Block– On doors that are a tight fit, you may need to add some clearance to add a kit.
Reciprocating Saw / Dremel Tool / Oscillating Saw– Some doors are just stubborn and require a lot of modification to add reinforcement bracing. Any of these tools you should have handy can quickly remove more material than a sanding block.
Installation on our best tested kit came out under 30 minutes for the entire install. We are not carpenters or handy-men for a living, but the installation is pretty straightforward.
---
Who Needs a Door Reinforcement Kit?
Anyone who lives behind a door can benefit from better door security. A door reinforcement kit is the best way to do this for home or bug out location. This is because the door is still reinforced while you are away.
If you rent or live in an apartment, you may not be able to install a reinforcement kit. That is where a portable or temporary solution can work. It may only reinforce a door while you are behind it, but bracing a door is a tried and true method of better security.
Pairing low-tech practical solutions with high tech systems is the best way to make a comprehensive security system. Comparing a door reinforcement kit against an alarm system is ultimately a bad move, since they both independently improve your security. The best comprehensive security plan involves planning first and foremost, and a combination of high and low tech solutions.
The best low tech solution is a door reinforcement kit. High security steel exterior doors start at thousands of dollars and quickly go up. Unless you have an extreme budget, your money is probably better invested in a door reinforcement kit.
---
Why Reinforce Your Door?
Security alarms work great. They can deter intruders, and let everyone know when somebody breaks in. But they don't do anything to actually keep anyone from getting in.
Reinforcing a door is the tried and true method of home security.
People have been barring doors since doors were invented, and similarly, people have been breaking through doors. Unfortunately, people never stopped breaking through doors.
80% of break-ins occur through a door. Most burglaries also occur while most people are out of the house: between 10am and 3pm. If you don't want someone rummaging through your stuff while you are out, you should reinforce your door. You can't place a door bar or brace on the opposite side of the door you left through- so a door and frame that is reinforced is the best bet for security.
Break-ins occur in even more frequency when disasters and emergencies happen. Communities can band together during tough times, but the unfortunate and lesser known truth is that opportunists show themselves as well.
Having a disaster or emergency get even worse with a home invasion is the last thing you want happening to you and your family.
---
How We Review Products
We research products thoroughly before selecting the best products to review. We conduct thorough research, where we consult experts in the field for a better understanding of what makes the gear great. Hours on end are spent field testing gear in practical conditions. We assign performance criteria and impartially rate each tested item.
You can support us through our independently chosen links, which earns us a commission at no extra cost to you. After our review process, some of the items reviewed end up in our giveaways, so be sure to check back often.
---
Sources and References
A special thanks to our sources and references. We leaned on them for the book knowledge that we paired with our hands-on practical experience.
Armor Concepts. (2019). 13 Years. Hundreds of Amazing Stories. Armor Concepts LLC. Retrieved from (Source).
Bureau of Justice. (2019). Burglary. Bureau of Justice Statistics. Retrieved from (Source).
SecurAlert. (2013). Home Burglary Awareness and Prevention. Jacksonville State University. Retrieved from (Source).
---
The Final Word
Doors have been broken through since as long as doors have been around. If you have been a victim to a break-in you know that it is a harrowing experience. Even if you are not present at your home at the time of the break-in, the thought of someone violating your privacy and safety can be maddening.
People often talk about the helpless feeling they have after a security, safety, or emergency situation occurs. At the time, it isn't a good idea to bring up that they weren't helpless: many events can be planned for and prepared for. Knowing your risk is the first step.
Don't fall victim to complacency and 'standard' security. Small, incremental upgrades and knowing the possible threats can go a long way to keeping you both safe and prepared. Knock a project out and sleep soundly that night by installing a door security kit.
Keep exploring, stay prepared, and be safe.
---
You've Been Missing Out
Join 32,170 preppers getting no-spin prepping advice by subscribing to
True
Prepper.
Practical guides and tips
Useful survival giveaways
Free, forever
< 0.4% of people unsubscribe
Thanks for
subscribing
, reading, and welcome to the club.
---
---