TruePrepper Bug Out Bag Guide
A comprehensive bug out bag guide for preppers both new and experienced.
This is a dynamic guide curated by all of our authors. TruePrepper Bug Out Bag Guide is constantly being updated with up to date and accurate information, so please check back frequently for updates.
---
Bug out bags, also known as 72 hour bags or Go bags, are usually used to bug out from a location. Survival tools, food, and water are the cornerstones of these kits. They are individual kits, meaning that even in a family, you spread food and water storage across each person's bug out bag rather than storing it all in one or two. This follows the important guideline of resource dispersal and gives each individual a shot at survival, even if separated. There are a few variations of bug out bags designed for different functions:
Get Home Bag (GHB) – kit designed to get you home to your supplies rather than away to a bug out location.
(INCH) I'm Never Coming Home Bag – kit designed to support survival indefinitely .
(SCARE) Social Chaos and Response Emergency Bag – kit designed for the biggest wildcard in emergencies: other people.
Bug Out Bag Essentials
These are the essential items that most experts agree are needed in a bug out bag.
The Bug Out Bag:
Survival Knife:
Flashlight:
Water Solutions:
Food Solutions:
Fire Tools:
Shelter:
Communication/Information:
First Aid:
Miscellaneous Tools:
Clothes:
Miscellaneous Extras:
The Full Bug Out Bag Checklist
A perfect bug out bag doesn't exist- what is right for you depends on your situations and risk tolerance. That said, we have as close to perfect of a starting point for you: our comprehensive checklist.
Our checklist is available as both a pdf download and as a Google Sheet/Excel file where you can check off items yourself, and even add and subtract items from the checklist.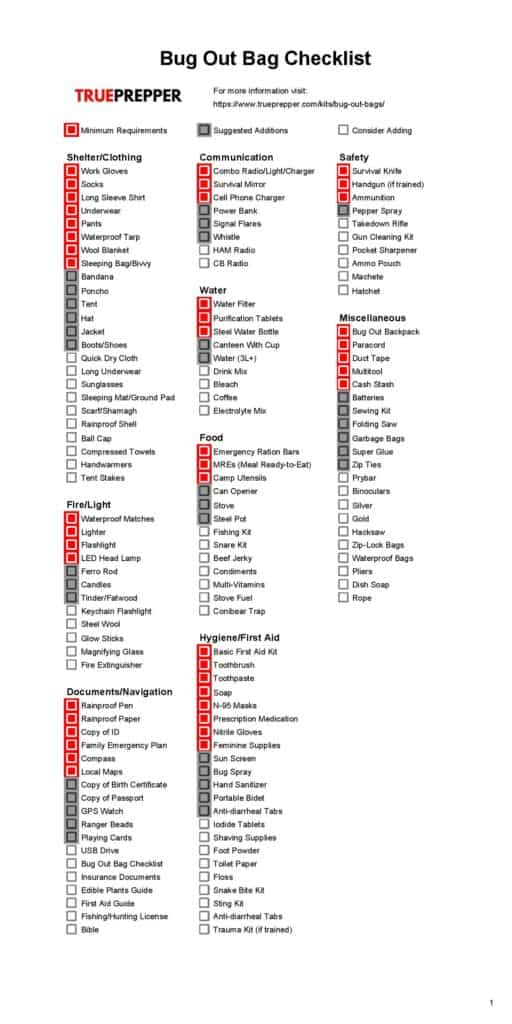 Bug Out Bag Checklist PDF
If you are looking for the simplest way to print and use the checklist above, download our PDF version. It is two pages long on 8.5″ x 11″ paper and makes creating a bug out bag extremely easy. Once you open the bug out bag PDF checklist in your browser, you can either print it directly or save it through your browser.
Bug Out Bag Checklist Excel / Google Sheet
If you are looking for a comprehensive way to track your bug out bag contents, open our Excel / Google Sheet version. The sheet is sharable, and you just need to copy it to your own Google Sheet account or download it to excel to edit it. We also keep the best reviewed item for each category linked to simplify shopping for any equipment you may find yourself missing.
---
The Next Step
Now that you have completed a bug out bag and are ready to be prepared on the go, you can take it up one notch further.
You won't always have the luxury of being nearby your survival kit or even your bug out bag. That is where Every Day Carry comes into play. Just a few extra items combined with some situational awareness can allow you to be prepared for many situations at any given time. Follow our EDC guide here: Every Day Carry.