The Best Survival Blanket – Finding the Optimal Tools for SHTF
A survival blanket satisfies a pretty big survival requirement: shelter. Most of the time we consider shelter to be our homes or a tent in the woods. Shelter, as related to survival, actually includes tarps, blankets, and clothes. This may come as a surprise, but the word shelter literally means a "refuge, haven or other cover or protection from something." In the case of survival, this can mean anything from a downed tree trunk or cave to a raincoat and everything in between. The key utility that ties them all together is that it protects you from threats such as extreme weather and sun exposure. Survival blankets fall into this 'shelter' category pretty easily, providing protection from the sun and insulating warmth from your body.
The best survival blanket is contingent on many factors. One big factor is how you plan to use it. When planning for survival, the one big unknown is what we will be faced with in the future. How we plan for both foreseen and unforeseen threats determines how good of preppers we are when the SHTF. As preppers and survivalist, the way we deal with this uncertainty is by choosing equipment that is not only functional, but versatile as well. Here are our criteria for selecting a good survival blanket:
Functionality – All things considered, how the tool performs its intended purpose is the most important factor.
Versatility – We want to get multiple uses out of each tool, adding resources through redundancy and versatility.
Durability – Avoid the crap. Buy high quality gear over imported junk to avoid failures in the field where it could be a matter of life and death.
The rest of the discussion is secondary, or fits into one of the categories above.
The Survival Blankets We Considered
There are plenty of blankets, tarps, covers, and bags to consider when looking at survival blankets. We went ahead and whittled out all the bad apples and came up with four viable options:
Mylar Blanket – 52" x 84" – 1.6 oz – Mylar Insulation Material (PrimaCare Medical – $1 each [$12 for 12])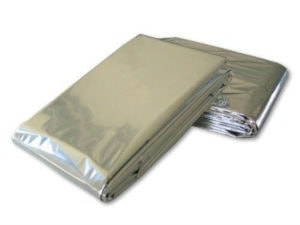 Wool Blanket – 66" x 90" – 70.4 oz – 90% Wool, 10% Synthetic (Ektos – $30)
Pocket Blanket – 44" x 63" – 6.1 oz – 100% Rip-Stop Nylon (Matador- $16)
All Weather Blanket – 60" x 82" – 12.8 oz – Aluminized Laminate Fiber Scrim (Grabber Outdoor- $20)
Survival Blanket Functionality
The functionality of a survival blanket is the most important consideration when picking the one you will rely on. The main use for a survival blanket is pretty straightforward: insulate your body and provide warmth. Each of the options we list provide warmth, but at varying degrees of effectiveness. Most of the blankets are still able to be used when wet, but may not provide as much warmth. Some are better at lower temperatures than others. The coverage area can also affect how well a blanket performs. The wool blanket performs exceptionally well as far as traditional functionality, although it is larger, bulkier, and heavier than the others. This brings us to a big point on versatility.
Survival Blanket Versatility
If a blanket does more than just keep you warm, you are using a versatile blanket. Our list is no exception, with each blanket having more than just the single use of keeping you warm. Balancing how a blanket performs versus how much room it takes in a bug out bag is a versatility consideration. Getting the best functionality out of the smallest package is an important factor where size and weight matters. The Mylar blanket and All Weather blanket pick up high marks in this category since they are very small and light, and have a few more uses than the other blankets. The Mylar blanket is easily adaptable to most situations where you need warmth. You can cut it to any size and line clothes with it. Technically, you could do this with any of the blankets but the Mylar cost is so low, and it is so lightweight and small that you could store multiple in your kit. You can even use the Mylar blankets to seal thing air tight with an iron. It is truly the Swiss army knife of survival blankets. The All Weather blanket has built in grommets and can block wind, sun, and rain when set up as a tarp shelter. This lets you accomplish other tasks without being encumbered by a bulky blanket. It also is hefty enough to be able to use as a sling to carry other resources, such as firewood. The wool blanket has some versatility, but not by design. The Mylar blanket, All Weather blanket, and pocket blanket have an advantage here because they were engineered to be versatile.
Survival Blanket Durability
Having a blanket that doesn't go the distance with you can be problematic. Even the worry that your blanket could tear or be compromised can stay in your mind when you need to be focused. This is where the pocket blanket and especially the Mylar blanket get lower scores. You can make up for this using redundancy. Redundancy is just carrying multiples of those types of blankets, but when it comes down to it you just don't want your equipment failing in the field. The wool blanket can suffer from stretching and snagging which puts the All Weather blanket slightly ahead in the category of durability.
Our Selection: The Best Survival Blanket
The wool blanket provides the best warmth and does not trap humidity like the Mylar blanket. The All Weather blanket finds a middle ground between the two, with an aluminized grid pattern. The wool blanket is significantly bulkier and heavier than the other choices at over four pounds. The pocket blanket takes up as small of an area as a Mylar blanket and is more durable, although less functional for retaining heat. Here are the numbers on how they stack up:
| | | | | | |
| --- | --- | --- | --- | --- | --- |
| | Functionality | Versatility | Durability | Cost | Overall |
| Mylar Blanket | 4/5 | 5/5 | 1/5 | $ | 3.3/5 |
| Wool Blanket | 5/5 | 2/5 | 4/5 | $$$$$ | 3.6/5 |
| Pocket Blanket | 1/5 | 4/5 | 2/5 | $$$ | 2.3/5 |
| All Weather Blanket | 4/5 | 4/5 | 4/5 | $$$$ | 4/5 |
Our ratings give the All Weather Blanket a slight edge over the rest of them, with the pocket blanket coming in last. While each blanket has their strong suit, the all weather blanket's consistent performance makes it the best survival blanket in our book.  The Mylar blankets are extremely cost effective, however, and would not be a bad investment if bought in bulk.
The Final Word
Heat retention can save your life in extreme cold environments. Whether you are packing your survival blanket in your car kit, bug out bag, or survival kit– be sure to have enough to go around.
Being over prepared is always better than being under prepared, especially when it comes to survival.
Keep exploring, stay prepared, and be safe.
---
You've Been Missing Out
Join 32,170 preppers getting no-spin prepping advice by subscribing to
True
Prepper.
Practical guides and tips
Useful survival giveaways
Free, forever
< 0.4% of people unsubscribe
Thanks for
subscribing
, reading, and welcome to the club.
---